Trainings & workshops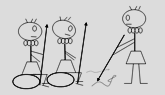 Strategy workshop
There are a lot of companies providing trainings. So how does Axcode differentiate? We do not have lectors, who are far away from real projects. We believe that having real connection to practice can bring to attendees real latest experiences. So we are able to provide You really custom made trainings and transfer of the latest know-how.
Trainings
The trainings are custom made to improve skills in specific customer environment. The latest experiences from practice are transferred. The trainings are provided in these areas:
Soft skills
Driving projects
People management and organizational behavior
Sales skills
Workshops
Workshops are provided to consult specific issues in people management, organizational behavior and project management area. Workshops bring alternative outside view of internal challenges in the way for the fast transfer of the latest know-how and best practices. It is extremely useful for experienced managers who are qualified enough and do not need dedicate consulting support permanently.